My guide to bike packing (BOMBORA x Fabio's chest)
Hi! It's Cent from Yoyogi-park.
It's so hot out here, but how are you all doing?
For this year's SWIFT CAMPOUT, we spread out into 6 teams , from Hokkaido to Kagoshima. I also joined the Akiruno city team!
If you haven't checked out how it went, do check out the blog from Nacchan!
Today, I'm gonna talk about my ways of packing on my CRUST Bombora.
First, let's check how I packed last year…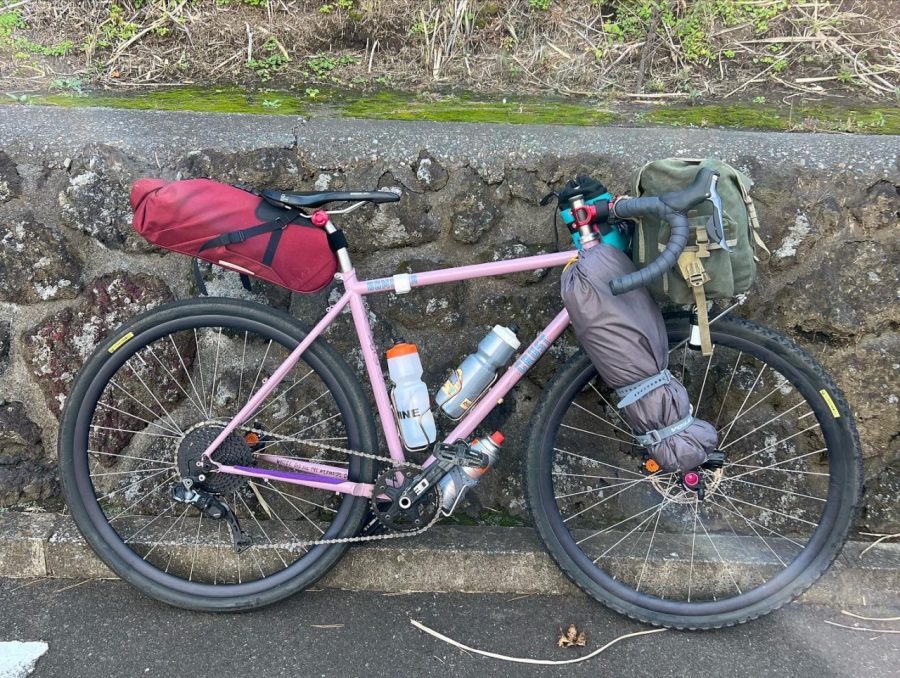 This was summer 2022, when I went to Izu Oshima Island!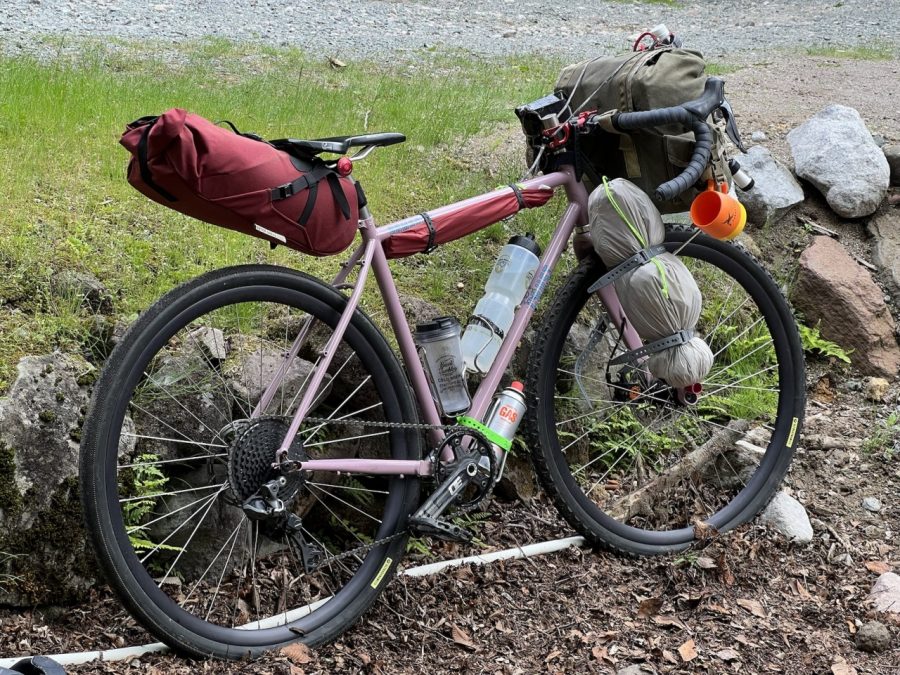 And this is when I went to Rihei Jaya campsite in spring of 2023. (Until this ride, I had a heavier tent and chair.)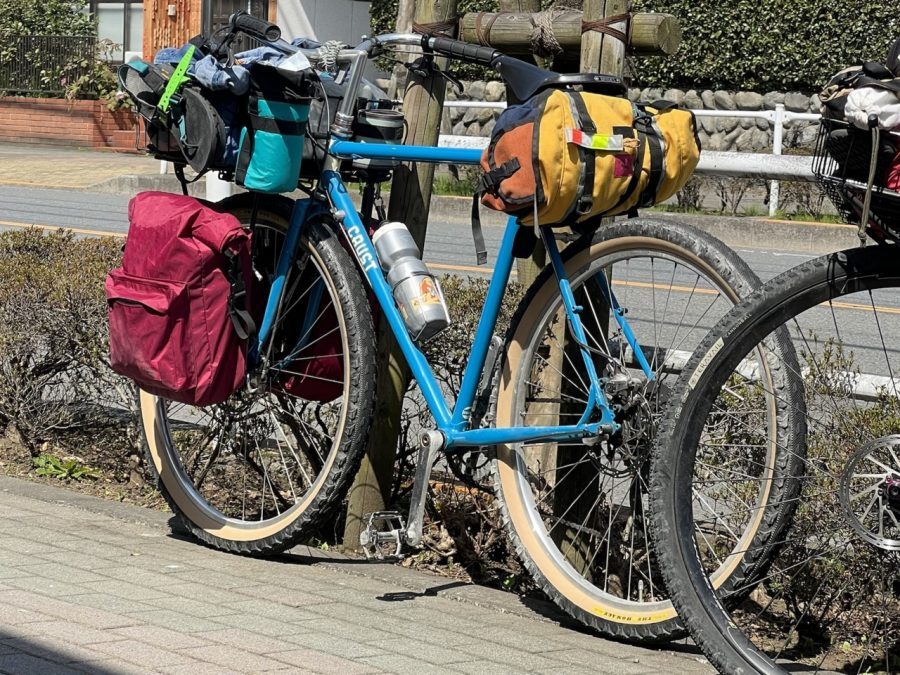 Oh yes, there was also this ride, went to Hinoko campsite in spring of 2022, I had panniers on a CRUST Romanceur.
I like this style as well. Elegant, Quick at mounting bags on and off, and no need to worry about what to fit where.
But It's easier to cycle when bike packing, and I prefer this now. And I also want my Bombora to be quick even if I got a lot of stuff on it.
Would I say I'm a experienced bike camper?… not yet. But I have gained good experiences over the years, and I now have preferences for style and tips of packing, so let me introduce some stuff that I learnt.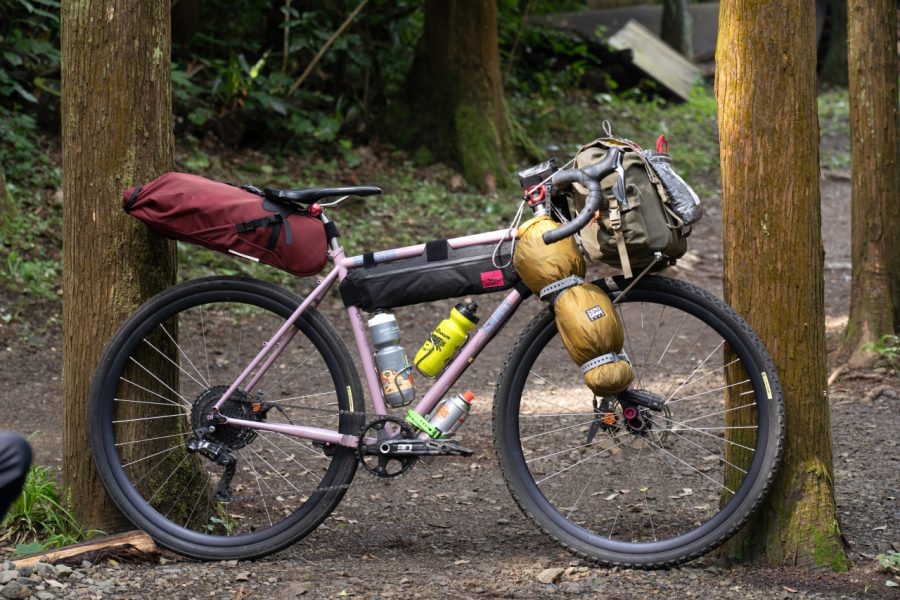 This is the packing I did for the SWIFT CAMPOUT this June.
Did something change?, you might ask. To be fair, The only thing I added is probs the SWIFT's frame bag. Other stuff has been serving me very well, so no need to change!
(I brought some new camping gears, bought lighter tents and chairs. I made sure that even if I brought more this time, the weight wouldn't change as much compared to last time.)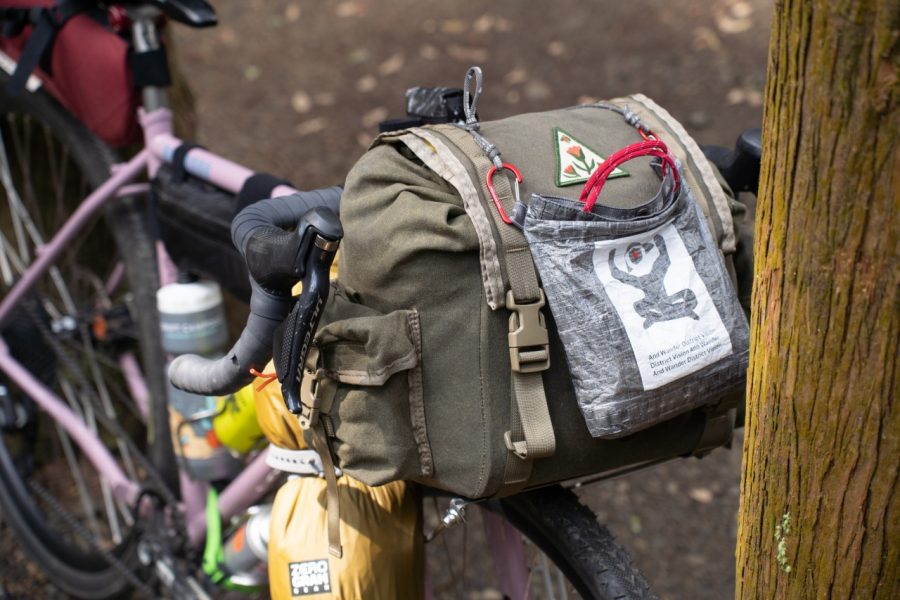 This style is based around this bag, Fabio's chest. With this bag, I'm sure that even you are bike packing, you can bring a lot of items to enjoy a pleasant camping.
Because "normally", bike packing without any racks will be a hard choice to secure enough space to fit all the things you want in camping.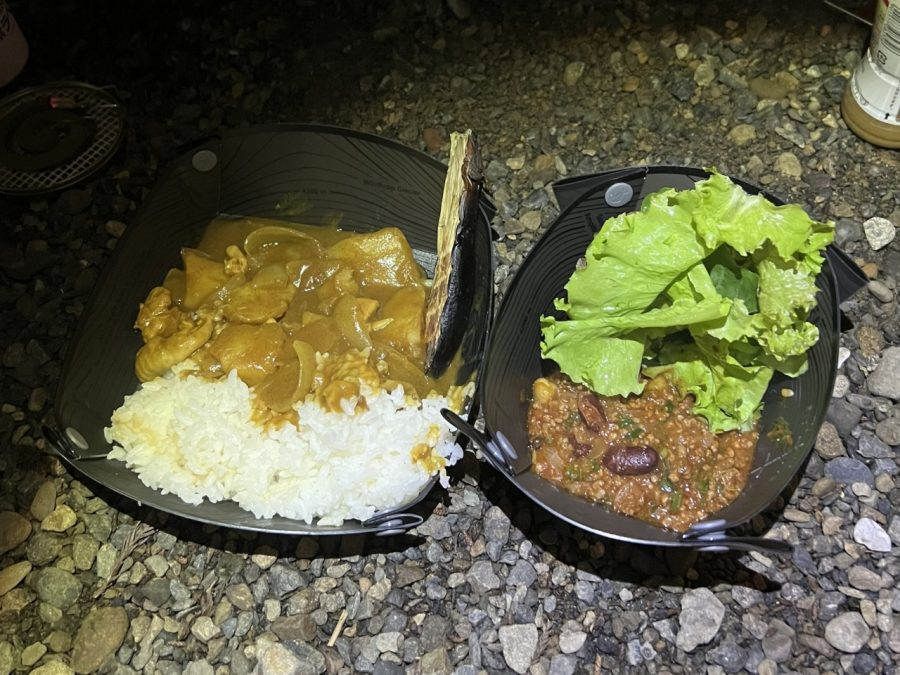 In bike camping, as much as you want comfort during your rides, If you reduce too much gears, when camping you would be saying "oh I forgot to bring that… I can only cook basic stuff… nobody brought coffee!!" This is not ideal, right? So although I went with 5 other members, I tried to test out bike packing that I can enjoy plenty, even if I was doing this alone.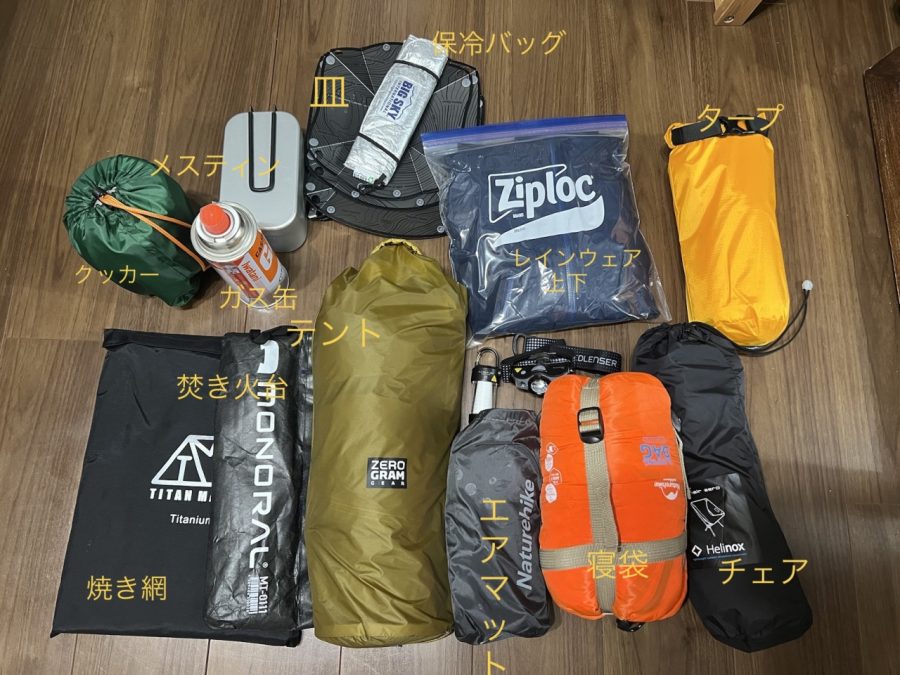 This time, I brought everything on the picture, plus extra T shirt as change, battery charger, and water bottles. Oh, 300g of rice as well.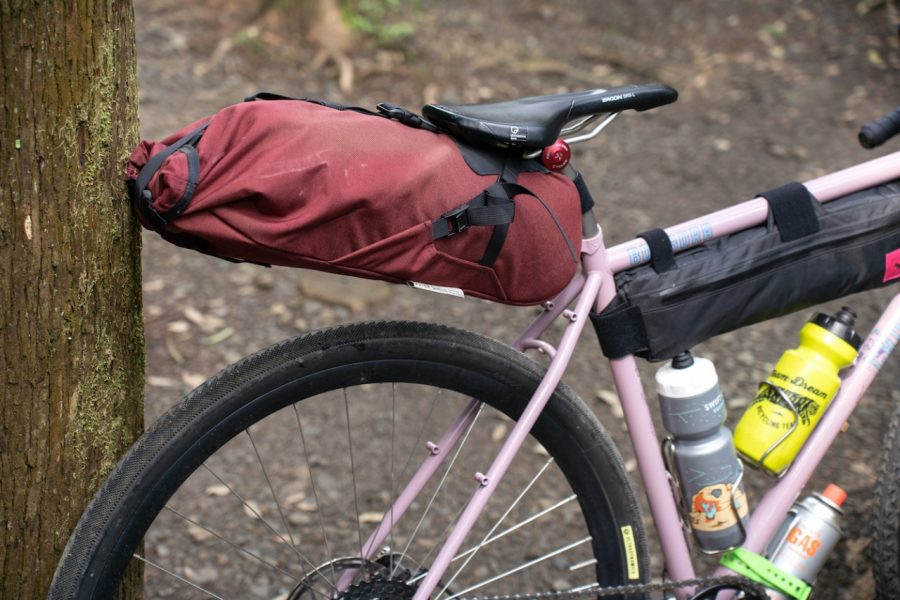 Packed my sleeping bag and air mat in the OUTER SHELL dropper seatpack (pink and red are two key colors for this Bombora, so I chose red to match the vibe.)
I'm 171cm tall, so this size seatpack is the limit for me to get enough clearance with tires.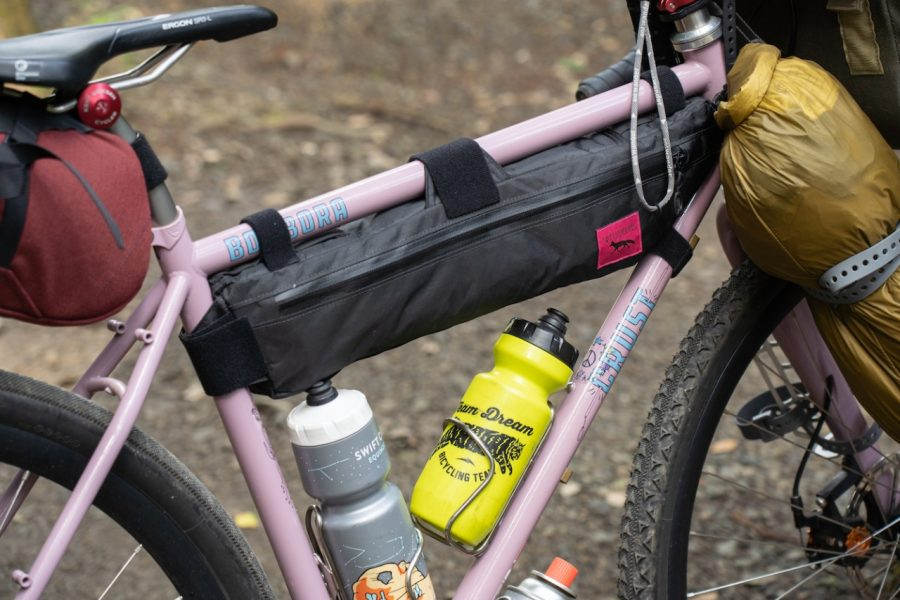 In SWIFT INDUSTRIES hold fast frame bag, stowed my tarp and wallet. (Chose black to give a bit of an twist to color coordination)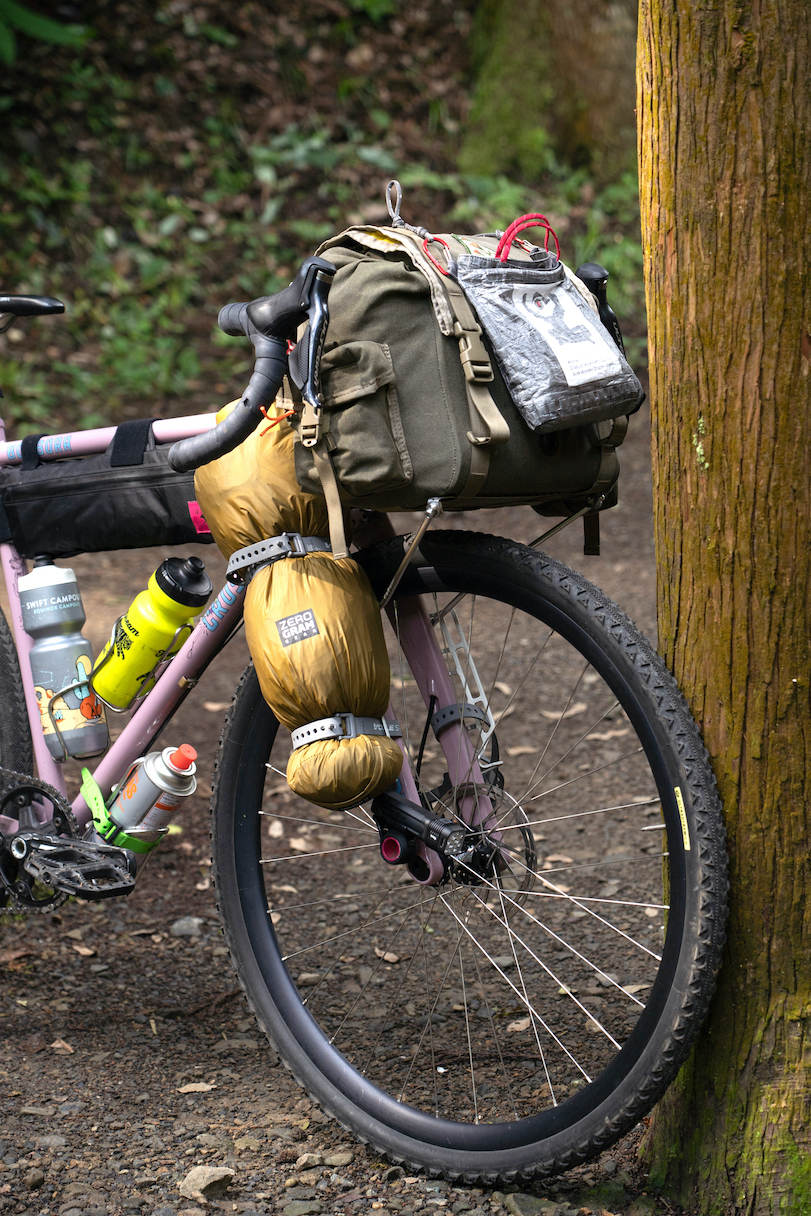 The tent and chair are strapped on the fork, because why not? I like using the WIDEFOOT cargo mount when doing so, because it's lightweight and is a design that fits in well with the bike, even I don't have anything strapped on.
All that are left are the bonfire stand, cookers, burner, rainwear, and change of clothes. All chunked in the s size Fabio's chest. The photo shows as if the chest is almost going to explode, but actually it still extends above, so it's got some extra room.
In camp rides where you will need extra space to pack food, we all need to make sure we consider that when packing, and Fabio's chest achieves that perfectly for my bike packing setup.
(Some keen eyes might have spotted how I support this bag from the bottom. Since I wanted a even lighter bag supporter than the M-1B rack, I made my original "Pec Dec". Using NITTO's struts and campee bolts, plus a stainless steel plate I got at some DIY store. The only drawback is that you have to remove the pec dec together with the bag because it won't stand alone without the bag and eventually will start hitting the tires.)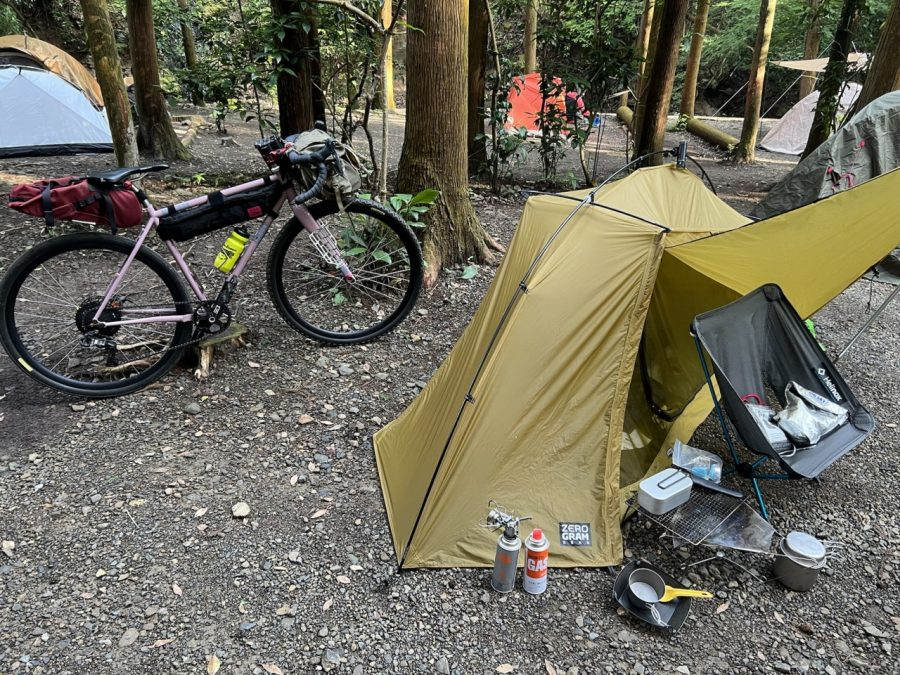 This is how it looks like when I took all my stuff out.
So I just wanted to say that the BOMBORA is no doubt a great bike even with this much stuff to carry, and I can assure you that this setup will not let you down if you wanna mimic it for your camp ride!
Thank you for reading! see you in the next one!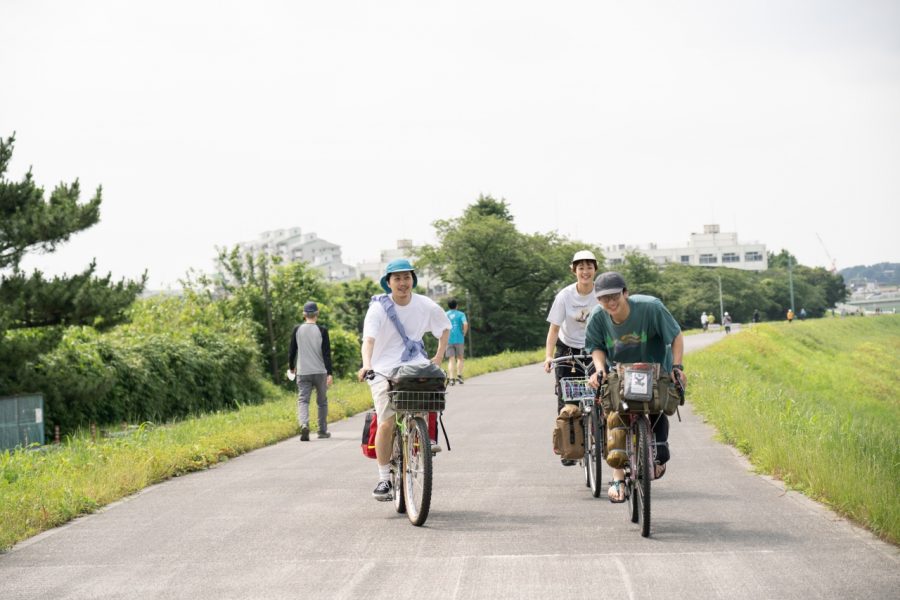 (P.S. The grey bag on the Fabio is a sacoche I've been using for a while when hiking, and was able to attach it using carabiners. Placed it on the Fabio when riding, and had with me when I wanted to leave my bike.)