Journey To The Forrest Sauna
For the past couple years, we've been avoiding traveling. The store is always insanely busy and due to the pandemic.
Thankfully, our country is finally getting enough supplies for the vaccine (which is very effective!) and things are starting to go back to normal.
Now that it's a bit easier to travel, these three dudes took a couple days off and went on a journey to the "Sauna tent in the forrest"…
Here are the members.


Name : Matsu (Store Manager of BL Yoyogi Park)
Age : 37
Bike : Black Mountain Cycles La Cabra (recently built)


Name : Chu-yan (Store Manager of BL Hatagaya)
Age : 33
Bike : Rivendell Bicycle Works Sam Hillborne.


Name : Digi (Bike Mechanic of BL Hatagaya)
Age 33
Bike : Ritchey Swiss Cross with Igleheart fork
The three heard some rumors that there is an amazing camp sight of which they have a "Sauna tent" in the middle of the woods. The name of the Camp sight is called "Suigen-no-mori Camp Land". 
As you guys may know, us Japanese are crazy about hot springs and saunas. They are great ways to sweat out all your stress, fatigues and body wastes. To be able to experience all that surrounded by the nature just sounded absolutely wonderful…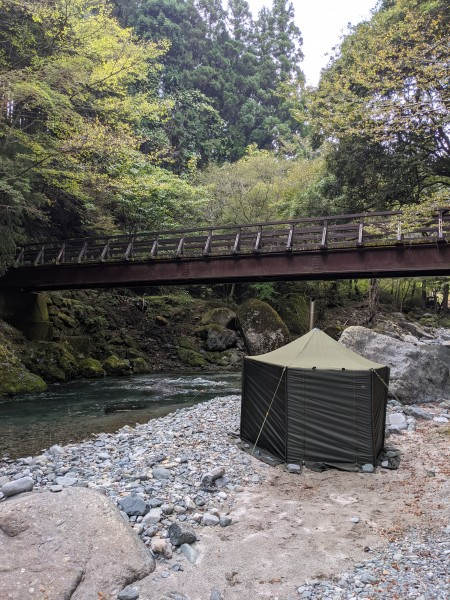 As you can see, they have successfully reached their destination…
Chu-yan has documented their trip, so we'll drop some of the photos he took on this blog.


Digi and Matsu assembling their bikes after arriving at the meeting spot. (Digi overslept)


Heading to the first check point "Zebra Coffee".


Digi checking out Matsu's new bike at Zebra Coffee.


Matsu looking happy with his new toy.


Digi with fully loaded panniers after getting groceries for the BBQ.

*SWIFT INDUSTRIES* anchor hip pack

Quick stop @ Seven Eleven…


Uphill battle (literally)


Chu-yan's Sam with the *SWIFT INDUSTRIES* camp and go slow motherloaf basket bag.


Almost there…


Arrival/setting up camp.
After a long uphill route and setting up camp, it was finally time for the main event!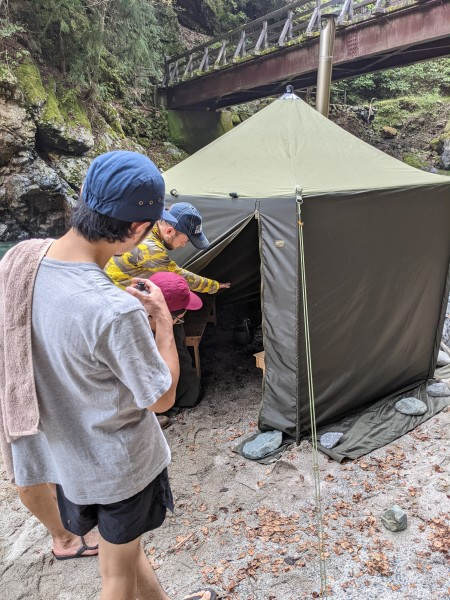 30 minutes later…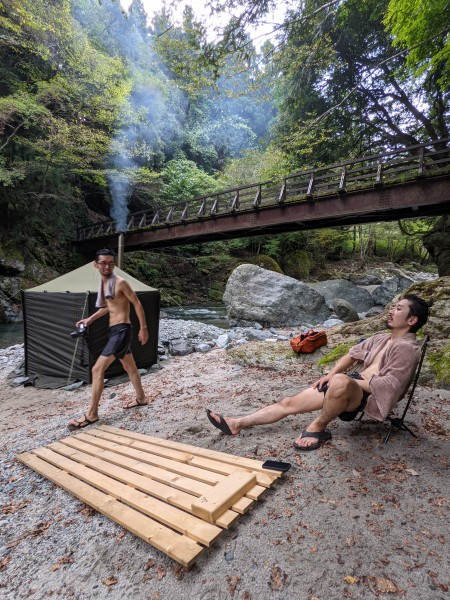 "My brain melted when I dove in to the near by river to cool down. It was like bascude crisis!" -Digi.
…Not sure where that reference is from but you can tell that he had a very good experience.
In the Japanese hot spring/sauna culture, there's often a "cool bath" (a bath tub filled with ice cold water) in the hot spring. People would sit in the sauna until they get extremely hot and rush into the cool bath to cool down and go back to the sauna again and repeat the whole thing over and over. It may sound bizarre, but it does make your body relax. Ya'll should really try it.


After a few rounds of the sauna session, it was BBQ time.
Cut, roast and eat. Salt and pepper is just enough seasoning. The scenery and the atmosphere gave them some extra spice.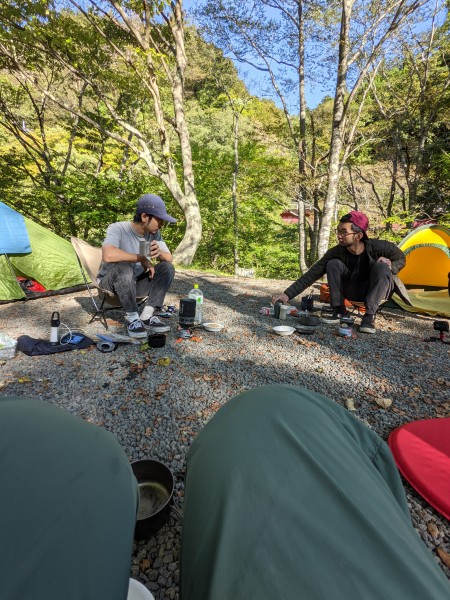 Next morning. Matsu and Chu-yan was awake before Digi.
The two nice senpais were preparing coffee for Digi. After a few hours of enjoying the morning, it was time to go home.


"Matsu! We know we had fun but we have to go home now."


The three bikes ready to leave.


Peace!!
If any of you guys reading this plan to come visit Japan in the future. We highly recommend going to the "Suigen-no-mori Camp Land". It a bit far from Tokyo, but if travel by train and bike, it wouldn't be that bad!

If the blog is enough for ya, we have a short edit for the trip too so go and check it out!
See ya'll soon.