BM-7 Next by Chouchin Cycles & Blue Lug
"I'm not sure what this bike is, to be honest. It didn't even have any decals on it. But I can say that it's from the early 80s. Have A Nice Day is the name of the I just made up."
Says Noboru, our friend and the owner of Chouchin Cycles, the vintage MTB specialized bike shop based in Tokyo.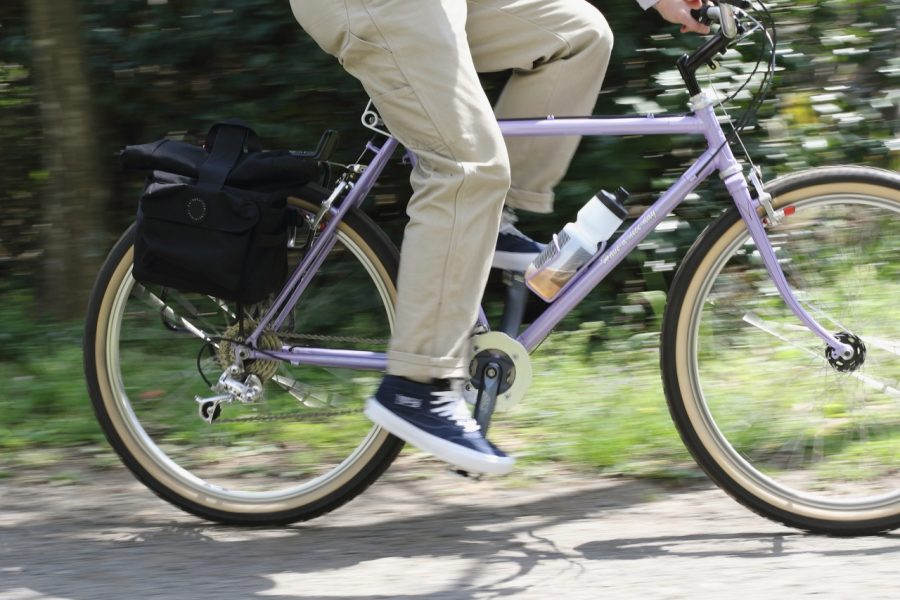 This Have A Nice Day had been in Noboru's garage for 8 years and it was finally built up a year and a half ago, after going through multiple welding and painting process.
The bike was built as a show bike for his shop.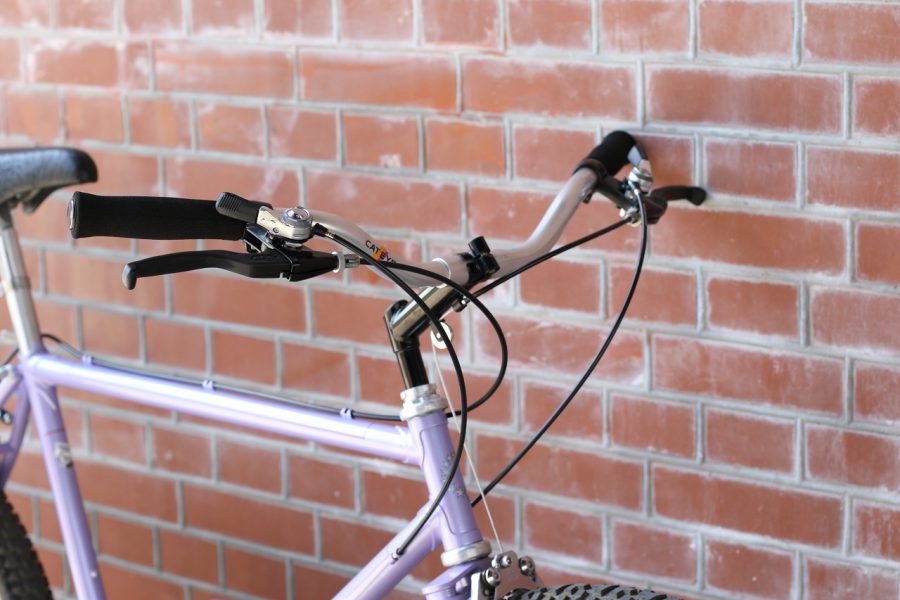 Noboru had wanted the bike to have Roller-cam brakes (which was even rare at the time). The frame originally had the usual canti brake mounts but he welded the brake mounts that were compatible with the Roller-cams.
The typical 80s MTB frame would have the U-brake mounts on the chainstay, but Noboru has successfully welded the mounts on the seatstay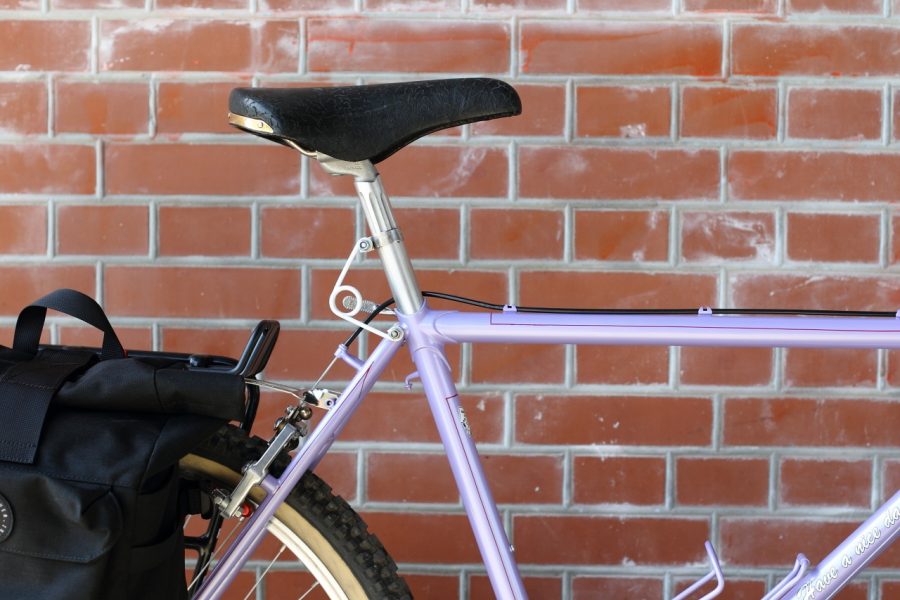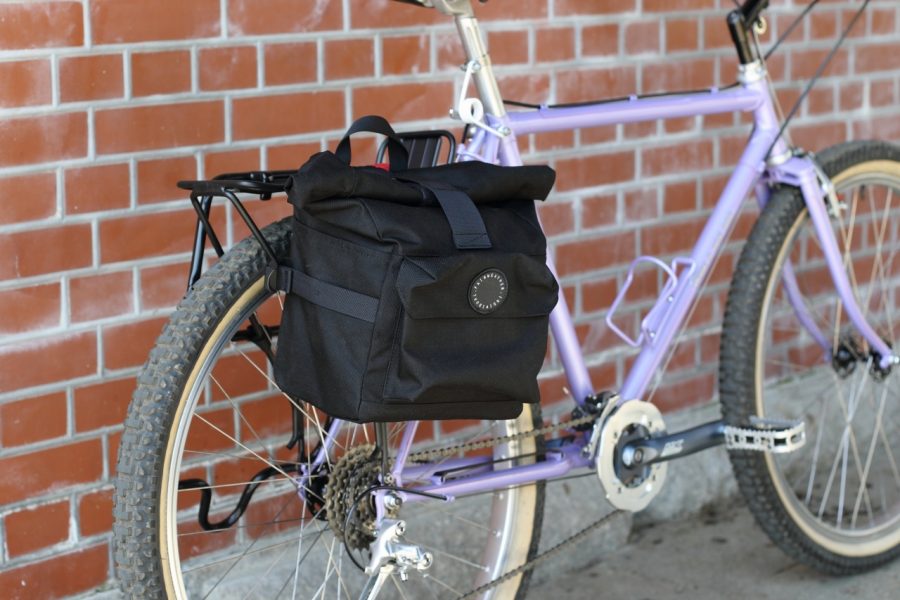 The pannier bag and the skate rack is apparently his favorite part about his bike.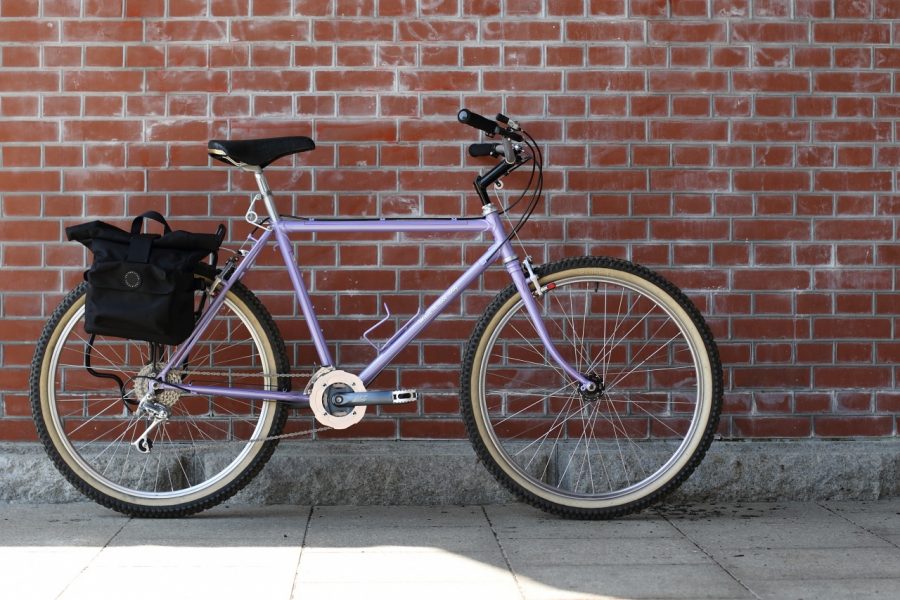 Noboru took the opportunity and painted the bike in a color, which he would never choose for his personal bike, with the holographic "HAVE A NICE DAY" logo on the down tube.
We often do not have many opportunities to touch vintage bicycles, but we definitely have many things to learn when we do and it's a lot of fun.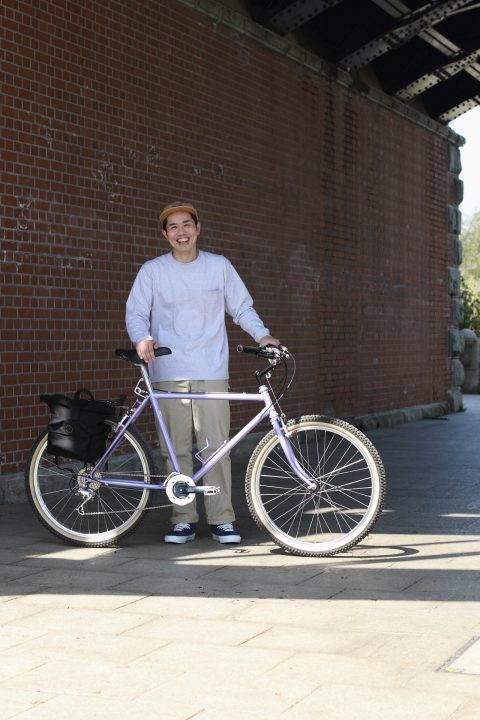 Here's a great picture of Noboru and Have A Nice Day shot by our staff Chuyan.
Noboru also has interests in skating and track bikes.
Chuyan is actually an friend of Noboru since the fixie bike boom in Japan, which was around 10 years ago.
Noboru taught Chuyan the basic skill/knowledge about fixed gear and Noboru would give Chuyan tips for being a bike mechanic before he started working as a mechanic for Blue Lug.
And now, they have worked together for a project with MKS Pedals.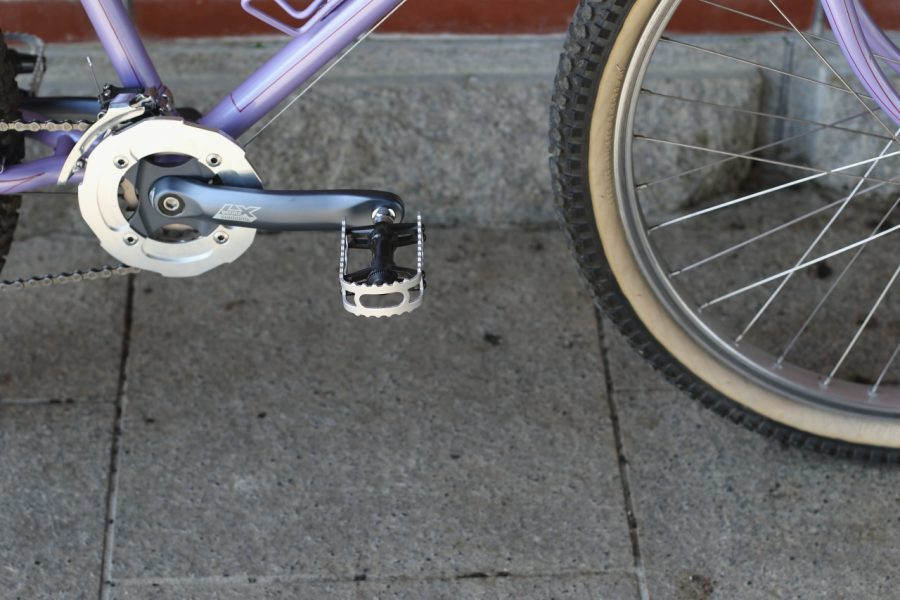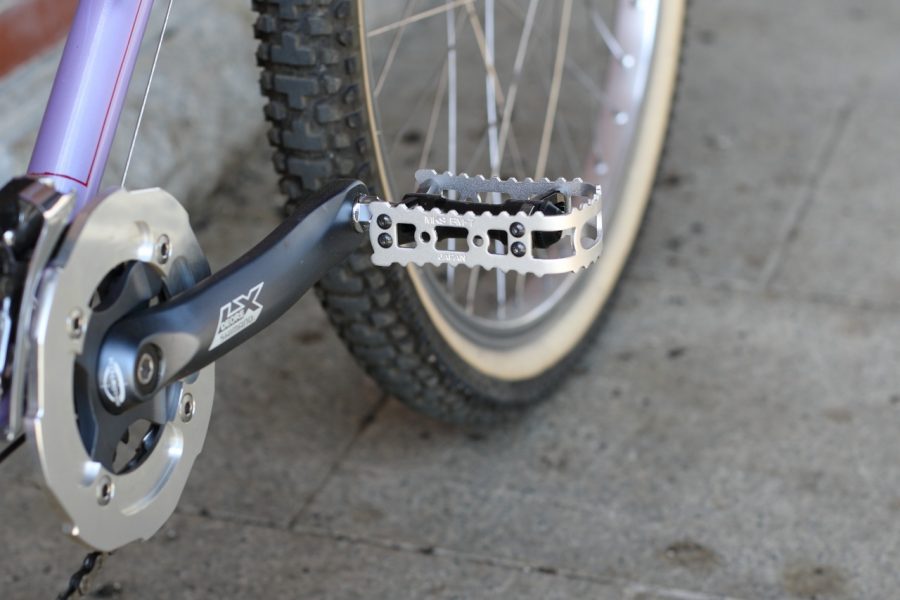 "About a year ago, I was in search of a pair of pedals that had a slim look with sealed bearings, like the SUNTOUR XC COMPE PL-5700. The first pedals that came to my mind was the MKS BM-7 Next with polish finished bodies and 7 different color-ways. They look fantastic as they are, but I realized that I can swap the black bodies with the existing BM-7s and that was kind of the sample for these new BM-7 next color-way"
*As said on Chouchin Cycle's blog post*
Chuyan was talking with Noboru in the DMs, saying that the BM-7 Next in black body/silver cage would look incredible.
We (Blue Lug) loved the idea and immediately shared the idea to MKS and here they are!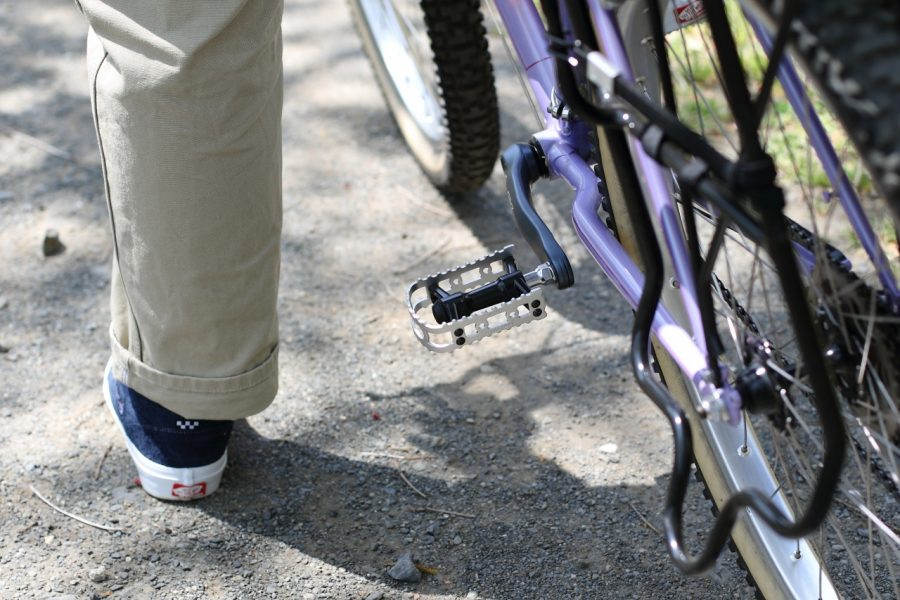 The BM-7 Next was made in celebration of MKS's 70th anniversary.
In 70 years of history of MKS, the black body BM-7 was never done before, despite the simple concept.。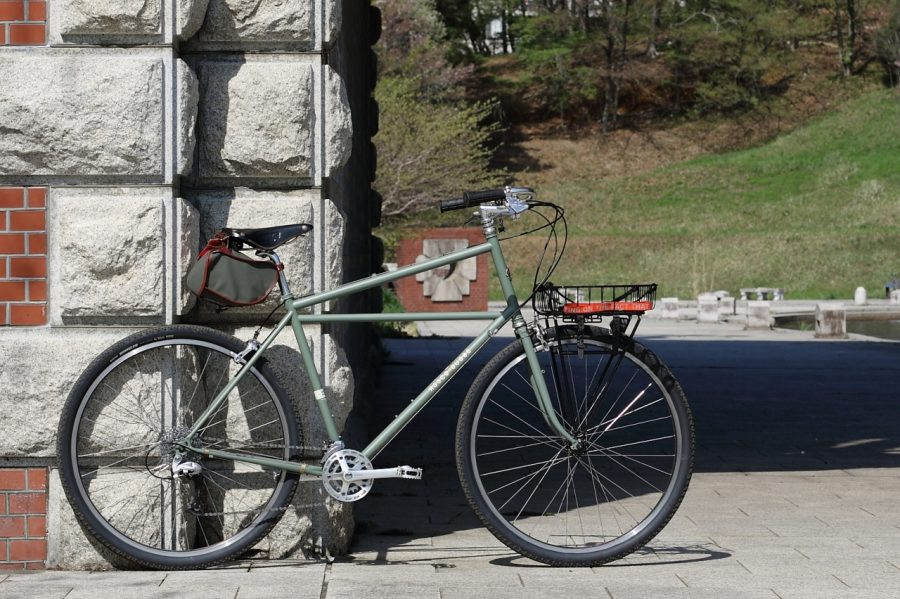 "I know I would regret not having these special pair of BM-7s, so I got them and installed them to my Rivendell Rosco Bubbe!"
Says Chuyan happily.
Having the triple sealed bearing on these classic series of pedals are simply a cool concept.
The quality of headsets, hubs and BBs matter when it comes to custom built bikes, but we believe that the pedals are also a very important component to require quality.
To wrap up this blog, I'll share my favorite shot that Chuyan took with Noboru.


Love this shot of the Vans Halfcab Pro Classics and the BM-7 Next.
They're both an updated version of the classics!
The Chouchin Cycle x Blue Lug x MKS BM-7 Next are now available on our site for purchase.
Check out Chouchin Cycle's IG page for dope old MTB contents↓
instagram → https://www.instagram.com/chouchincycle/
– Colonel