MY SURLY Ver.2
Hello, this is a follow up report about My first SURLY debuted in April.
The Cross-Check I built specifically for city rides has been outstanding and I have been really enjoying to ride it, sometimes I even ride it 7days a week.
Not only riding but I also enjoy customizing the bike so I would like to write about it today.
The 2nd version is like this.
This oldies style handle bars was an inspiration of the build because its short width and the uprise shape was ideal to me.
I have been in a mood for narrower handle bars as a counter of the wide one's popularity.
I installed rear dynamo light as well while it only had the front one before. I matched SON's ones up both for front and rear.
I guess there are quite a few people just using dynamo light for front and reflector for rear. Although rear dynamo light could be an essential if you don't mind about cords goes from front to rear.
I actually don't feel the convenience of the rear light by myself because it's a tail lamp and I can't see it while riding. Though I assume it's contributing safeness for the cars and bikes behind me.
It costs around extra $100 so it's not a big hassle to install. The typical resistance to pedal with dynamo hub doesn't happen with SON's ones (IMO), so you don't have to worry about it.
 It's a single speed and I don't think there will be any problem with it if you cycle around within 10km radius.
By the way, there is a tough guy cycled from Yoyogi Park to Ichikawa, Chiba prefecture with his single speed.
 It's been a while to use a WHITE INDUSTRIES crank for my own bike since I have been riding Rivendells for a long time. A bit weird combination of a VBC crank arm and an ENO chain ring because I might be gearing or front doubling  the bike later on.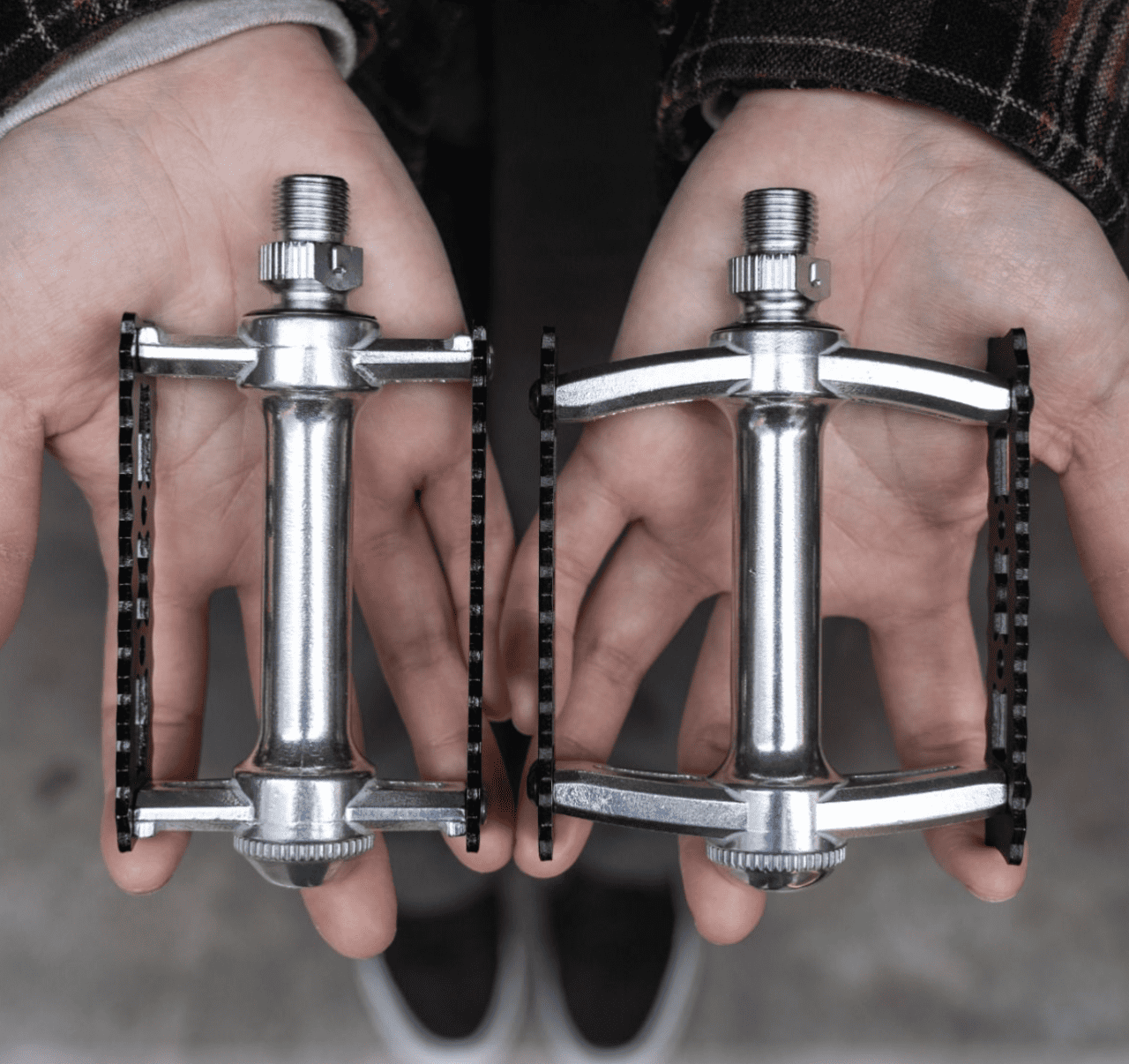 Actually my personal best custom this time is SYLVAN GORDITO.
It's like a chubby SYLVAN TOURING and its charm point is the wider plat form which you can pedal well even if you just put your feet on them randomly.
There are lot of plastic wide flat pedals. Otherwise even if it's alminium, it usually has spikes. The problem is that you don't want to wear leather shoes when you cycle these pedals but GORDITO made it possible.
The update version Cross-Check.
The dynamo lights made the bike even more useful and the WHITE IND crank satisfied my desire. Although I'm still not deciding the best handle bars for it yet, the 2nd version update is completed.
==Chit Chat==
Let me write about the desires I have for CROSS-CHECK.
The more I love this bike as I ride it 7days a week the more I feel that I want to ride it for my non-daily situations such as the rides I go. Basically while I expand my want from this bike, I feel its limit as a 700C rim brake bike more and it's simply a paradox.
"Why do I feel the inconvenience because I love it! Didn't I just want to ride it in the city? What should I do!"
Then while I was collecting CROSS-CHECKS all over the world, I remembered there is an ex-CROSS CHECKER familiar to us.
Here comes Mat, CRUST BIKE'S boss's CROSS CHECK.
 His "custom" is getting intense enough to modify the frame itself to fit to the hard riding style he used to do. Disc brakes for both wheels… Honestly I can understand your feeling, Mat… It's swapped to a slide-end and internal hub as well. Well 700C tires were still here until this time but,
 Look at this set-up for his trip to Himalaya.
This is the exact moment when the devilish-modified CROSS-CHECK with asymmetric sized wheels was born. I'm almost tempted to make my bike like this even though I won't go to Himalaya.
This devilish C×C seems like an inspiration of Crust's EVASION.
  EVASION, the satanic touring bike of CRUST'S is made from Mat's experiences and ideas after he rode the CROSS-CHECK so hard. I'm having a hard time because I found an unexpected new way for fun rides while I want to ride CROSS-CHECK more.
Anyway that's a wrap for today. I'll write again when I updated my Surly. See you again!