Went's Surly Cross x Check
For about two decades, the Surly Cross x Check has been loved by many riders worldwide. It hasn't been through a huge change since day one. It has insane versatility and the simplicity of the bike does not get old.
We built so many of them and we still love building them.
Our staff member Wentz, recently built up his own Cross Check for the first time.
"I just wanted a bike that I can get around. I have a bunch of hi-tech bikes for certain kind of rides. I realized that I didn't have a bike that I can just cruise around, so I just picked the most classic and the most practical bike in our selection."
"I first was keen on the Monstercross from Black Mountain Cycles, but Issue had already got his hands on the bike so gave up. Then the Cross x Check just popped in my head and I thought, Of course, why not!"
Wentz's Cross Check  size : 50
Assembled with all the parts he had in his component stash.

The color inspo of Wentz's Cross x Check is apparently the Monstercross from the IG post above. A fine ass build by Golden Saddle Cyclery.
"It is a get around bike, but I chose drop bars to let people know that you can still ride comfortably with them, if you position them in the right height. Don't trim the steerer tube too much if you have back problems."
A casual Pass And Stow 3 Rail Rack (we call it the worlds coolest front rack) on the front.
"Cranks…I brought out the old Shimano double cranks. They look good, but the outer chainring is too big (53T) since it's for an old road bike. I put on some new chainrings, but they're still hard to pedal and it cost me more than buying new Shimano cranks, but Whatever. I'm happy with the current set up"
Incorporating unused parts from your stash is definitely one of the fun things about building Surly bikes, especially the Cross x Check, since it takes almost any kind of classic parts like it's nothing.
"The original plan was to go with the 700 x 43C Bruce Gordon Rock n' Road tires, but they weren't made to run tubeless. Darn it! However, I was very happy with the way Surly Knard 41 tires looks on this bike"
So, he finally found some tires to run tubeless.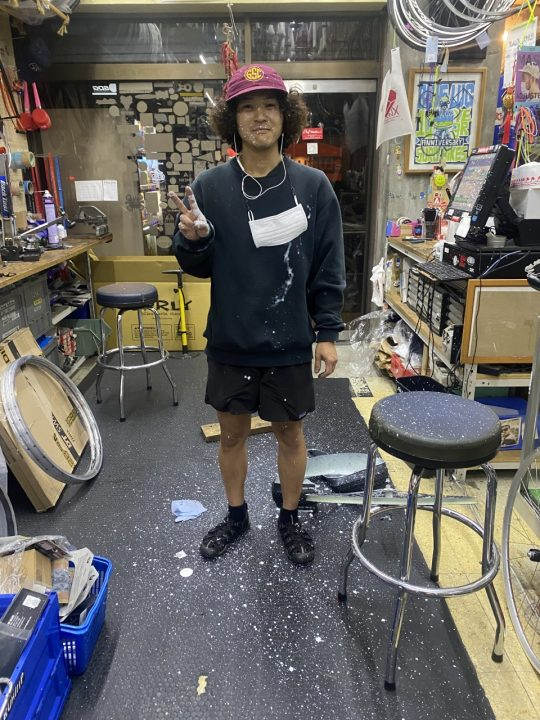 He had to go through some rough times, but it's all good.
Shimano Brifters with a 2×10 set up.
So, there you have it. Wentz's Cross x Check.
It has a different taste of style compared to the commuter type style builds we do daily. Wentz's build is some what adventure-ish and commuter-ish. This showed us the versatility of the Cross x Check once again, and our love for the bike got even stronger again.